The admissions processes for most U.S. medical schools places emphasis first and foremost on standardized test scores and grades. With 50,000 applicants vying for 20,000 seats each year, it's no surprise that the attributes highly valued in health professionals are left out of consideration until the point where the applicant has made it past both the MCAT and GPA score filters successfully.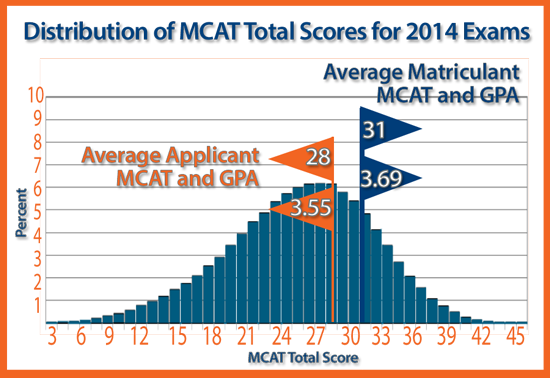 Data compiled by the Association of American Medical Colleges from 2014 (right) shows: 
The average MCAT exam score was 25
The average US school applicant scored a 28 with a GPA of 3.55
The average for U.S. medical schools matriculants was higher with a 31 MCAT and 3.69 cumulative GPA.
Many students who would make excellent doctors are not offered an interview because admissions committees are typically not structured in such a way that they have the ability to consider an applicants personal experiences in conjunction with their test results.
Though an application may include detailed entries that convey an applicants personal attributes (i.e. a strong commitment to service, the ability to overcome adversity, leadership skills, team work, and desire to learn), they are routinely passed over as the majority of applicants achieve MCAT scores that fall just short of being competitive.
To counter this, Trinity's admissions team utilizes a holistic approach. While MCAT scores are required and grades are important, we go beyond these initial measures to understand life experiences, personal attributes, and how an individual has overcome barriers to success in the past. To that end, research has shown that educating students in environments that value diversity and inclusion has a positive impact on attitudes regarding access to care and produces graduates better prepared to practice in under served communities. This approach is in keeping with our mission to improve access to quality health care and enhance the health of the communities served by our graduates.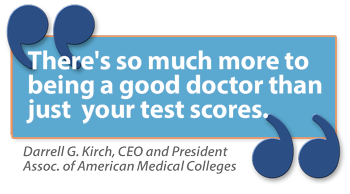 To achieve our holistic review within the application process, Trinity's admissions team places an applicant's interview early in the review process.  By doing so, we are able to understand the framework that helped or hindered them along the way. Grades and test scores are not achieved in a vacuum. Did the student have work responsibilities while in college? Did they contribute to or provide for the financial aspects of their education?  Did they participate in clinical or medical outreach such as shadowing, volunteering, medical mission trips?  Did they have other important experiences involving leadership, clubs or associations, community service or athletic/team commitments? Did they have others besides themselves that they cared for while in school?
One or many of these elements may have contributed to a students overall academic performance not being an accurate representation of what they are truly capable of. We view the context of a student's life as critical to understanding their full potential. 
This does not mean that an individual who has demonstrated strong leadership abilities but struggled with concepts in biological sciences is likely to be successful with the challenging medical school curriculum. Applicants to medical school should be able to understand and use basic principles of mathematics, chemistry, biochemistry, and biology instrumental to applying the sciences to human health.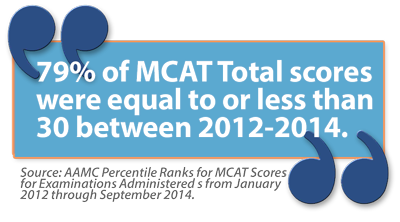 So, why even have the MCAT? Unfortunately, because universities and their curriculum vary, the MCAT became a necessity. The MCAT, while imperfect, can still be a strong predictor of a student's medical school performance including future grades, licensure exam scores and time line for graduating. It doesn't have to be, and it's certainly not the only factor.
In the chart below, the Association of American Medical Colleges depicts the correlation between GPA, MCAT score and an offer of Acceptance by at least one U.S. medical school. For applicants with less than a 30 MCAT exam score and a GPA under 3.8, the odds of gaining admission drop dramatically.
While this information isn't a revelation to those who have been through the process, what may come as a genuine surprise is the flip side of the coin. Utilizing more of the same AAMC data that reveals that while you need a top MCAT score to get into school, you do not need this same score to be successful in medical school.
In the chart above, the concentration within the orange circle shows that there are a significant number of individuals whose scores would not likely gain them admission to U.S. schools, but still achieved success in their first attempt at passing the USMLE Step 1 licensing exam. These are the very students Trinity provides an opportunity for.  
Trinity's own admission data (see chart below) illustrates that students beginning our MD program with widely varying MCAT scores have great potential to achieve top USMLE Step 1 scores and subsequent Residency placements.
In the chart above the blue columns indicate the Average Step 1 Score achieved by students who entered Trinity's MD program with an MCAT score in the range depicted below the column.  The black points are a sampling of the Step 1 scores achieved by test takers passing on their first attempt. The orange circle at the bottom of each column illustrates whether one or more students with the MCAT score and Step 1 scores within each category was able to achieve a Residency placement. In the case of the MCAT 33-35, in the time period selected for this chart, no one had participated in the Match process.
We encourage students who have met the pre-requisites and have struggled with the barriers of the U.S. (and Canadian) medical school admissions processes to showcase their experiences, attributes and academic qualifications to the Admissions team by requesting an admissions interview. Trinity's Admissions team is currently visiting locations across the U.S. and Canada to meet with qualified individuals who are serious about beginning their MD in 2016.  In this forum we can assess your capabilities and assist you with getting beyond the 'Score Filters' and into an MD program where you can prove yourself and contribute value as a medical student and future physician.
{{cta('d5b90dc7-fbae-4d9e-b278-e342fffa4ef9')}}