Trinity School of Medicine is not a typical medical school. While the curriculum is current and rigorous and the standards are high, the people make the school truly unique. In the spirit of the American Thanksgiving holiday, we'd like to highlight just some of what makes Trinity so special.
The People St. Vincent and the Grenadines
Trinity School of Medicine is closely tied to the culture of its home in the Caribbean. Regardless of wherever they call home, the students are welcomed as a part of the community. Whether through Trinity's many student volunteer opportunities and clinical experience at Milton Cato Memorial Hospital, to simply getting groceries at the market, Trinity is made to feel a part of St. Vincent, and we wouldn't have it any other way. We want to take this opportunity to once again specifically thank the wonderful people of St. Vincent for making every day of our students' lives so special.
Our Partners
Trinity works with a number of NGOs, from the Rotary of St. Vincent to the World Pediatric Project. These partnerships give Trinity's students a chance to offer aid and comfort to those in need while acquiring valuable experience and even mentorship from visiting medical experts eager to address the healthcare needs of the Caribbean and influence a new generation of doctors.
In fact, in the coming weeks, watch for an exciting new fundraising campaign. A collaboration between Trinity, The St. Vincent and the Grenadines Health and Education Foundation, and the World Pediatric Project will once again take measurable steps to help overcome the healthcare challenges of the world's children.
The Faculty, Administration, and Staff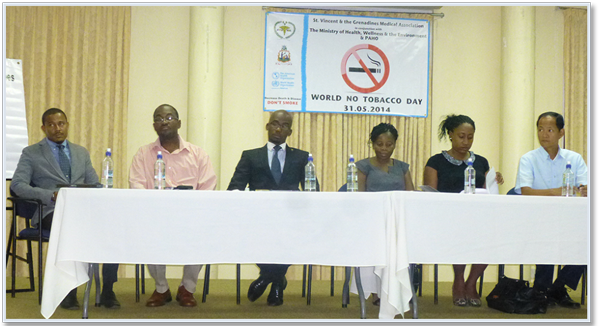 Trinity's faculty are truly remarkable. From the full time professionals with extensive backgrounds in both medicine and academia, to visiting experts from around the world, their priorities are the same: prepare these students to be excellent physicians wherever they decide to practice; to instill them with the scientific background and the applied methodology that equips them to best serve their patients.
The Student Body
Last, and certainly not least, we'd like to offer our sincere gratitude to the students, past, present, and future, of the Trinity School of Medicine. Trinity is a school that prides itself on offering an opportunity to the remarkable young students that found themselves looking for anything from a new adventure to a school more aligned with their cultural values. The administration could not be more proud of the students: engaged leaders amongst themselves, eager students in the classroom, and helping hands in the field, they truly are remarkable and we're grateful every day that they chose Trinity as the next step in their career as physicians.