As future physicians, healthcare outreach and awareness has always been a top-of-mind extracurricular activity for Trinity students, particularly it's AMSA (American Medical Student Association) chapter. It is for that reason that the organization collaborated with the St. Vincent and the Grenadines Medical Association (SVGMA), to once again host two events in Kingstown. Each event, one focused on prostate cancer (a 5k), the other on breast cancer (The Pink Cap City Walk), was held to educate, support, and entertain everyone from a curious general public looking to learn more about their own health, to cancer survivors and their families.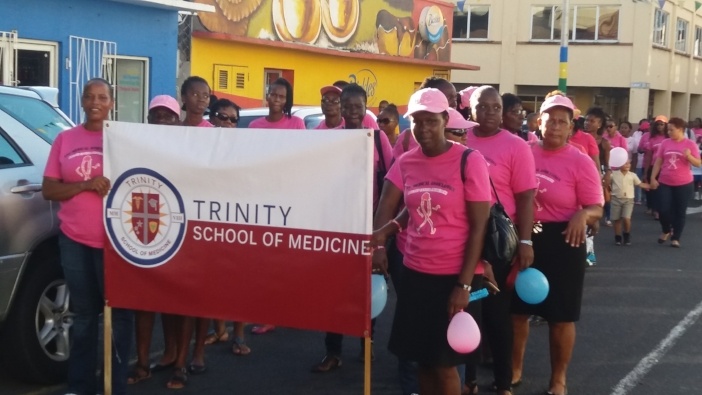 The Pink Cap City Walk began at mid-afternoon. It engages cancer survivors, medical personnel, workers, students, members of school bands and dance troupes and other activists and interested individuals; all decked out in their signature pink outfits. It moved throughout the busy Kingstown afternoon, and invited onlookers to join the throng as it passed their way. Walkers were singing and chanting in groups, creating an atmosphere of inclusion. The walk culminated with participants arriving at the point of origin, Heritage Square, to hold an educational rally.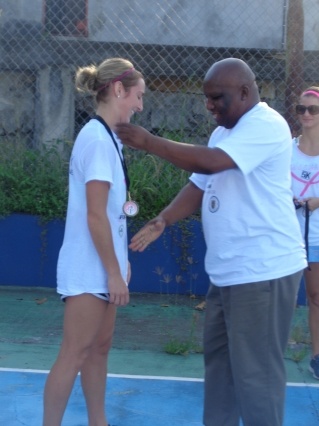 Similarly, the 5K Run was open to all island residents. It began at the entrance of the Arnos Vale Sporting Complex, just on the outskirts of Kingstown, and walkers and runners move towards the Grass Roots Tennis Courts in Kingstown. Along the route, members of AMSA were available to provide water, while Trinity buses travel along to pick up persons who no longer wanted to walk or run. The event culminated in an award ceremony and, once again, educational sessions.
In previous years, both activities focused on breast cancer. This year, however, the organizers sought to include prostate cancer. According to Dr. Roslyn Ambrose, President of the SVG Medical Association, breast and prostate are the most prevalent cancers affecting Vincentians. She stated that, there has been remarkable improvement in the survival rates in breast cancer between 2013 and 2015. Prostate cancer survival rates had not been increasing. She highlighted the fact that, like breast cancer in females, early detection makes a significant difference.
Similarly, Hon. Luke Browne, Minister of Health and the Environment who participated as a runner at Sunday's 5K spoke on behalf of his ministry. "We are nurturing a culture of fitness in St. Vincent and the Grenadines," he told all gathered, "we know that breast and prostate cancer are important areas to educate the public– cancer being the leading cause of death in this country, and we are happy that, with a partnership with the Trinity School of Medicine, we can build on that culture of health, fitness, and education for Vincentians." The Minister implored the crowd, "In moments like these, we must not lose sight of the pain and suffering that cancer really brings to so many families in SVG and all over the world, and we must redouble our efforts to see if we could move in the direction of a cure and also to mitigate whatever hardship which the individual may suffer and the family may endure."
It was at this point that President of AMSA, Ramneek Hoonjan presented a check of $5,000 to President Dr. Ambrose of the SVG Medical Association. The funds are already earmarked to go towards assisting Vincentian cancer patients in their recovery and survival.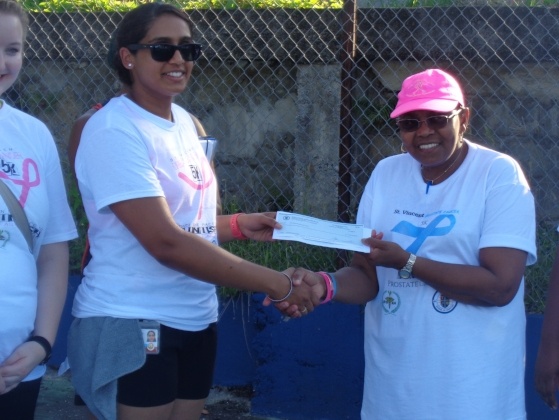 On a lighter note, The winners of the Walk/Run were also announced. There were as follows: Males – 1st, Wesley Phillips; 2nd, Steven Silvestro; and 3rd Garret Cole. Females: 1st, Jenni Hutchinson; 2nd, Emma Daymond; and 3rd, Tamira Browne. The eldest walker was Michael King while the youngest was Delaan Nedd.
In outlining AMSA's preparation for the 5K, President Heiner explained, "We've been working on this activity since the start of the term. We had t-shirts already ordered, and we had been sending out letters to get donations. We were happy to raise money for cancer awareness and treatment. For us, the awareness is a work in progress. In school we've been learning about the struggles of breast cancer and prostate cancer and how a lot of the times it's one of those cancers that go misdiagnosed when people do not do the proper checks. The local community shows a keen understanding of the issue. Many are so excited and want to show support and to even learn more."
At the end of both events, Trinity AMSA and the SVG Medical Association reaffirmed their commitment to continue to support the cause of breast and prostate cancer and to include the Pink Cap City Walk and the 5K walk/Run in their programs for 2017. The Vincentian community has come to look forward for these two events.