Trinity School of Medicine has always prided itself on the strength and ambition of its students. So many future physicians come our way looking for something new; whether that's a unique learning environment built on support and a strong relationship with the faculty, a curriculum with an emphasis on clinical skills and service to patients, or just a fresh start. In this next edition of our alumni spotlight, meet Dr. Clinton Ezekiel, MD, USAF.
Why Trinity?
Dr. Ezekiel's path to medicine was one we know well: he came from a family of physicians and, after graduating, felt the need to follow the path himself. "I was always influenced by my family. And after undergrad [ed. Dr. Ezekiel's undergraduate degree is in biology], I was working in clinical research for a private firm. It was good work, we were researching new diabetes medication, but it just wasn't fulfilling. I always felt like I could accomplish something more."

As a Texan, Clinton's first step was to apply to the Texas med school system. Ultimately, he found himself running into the same sort of challenges and roadblocks so many students face: unnecessarily high competition. At the same time, he had cousins at Caribbean medical schools, and began to consider the path for himself.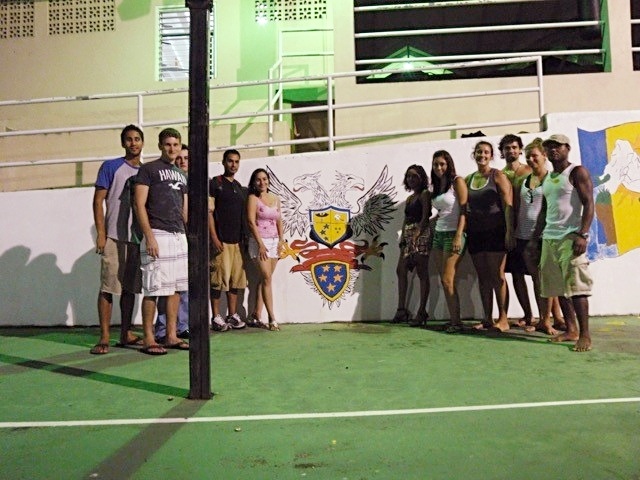 "I wanted to start right away, I didn't want to keep taking the MCAT and just hope. I also felt that I'd put it off already for the past couple years since graduating. Right as I started looking, Trinity was giving a presentation in San Antonio. The small classes appealed to me, and being honest, they were the first med school that took time to talk to me, explain what they offered, and honestly explain the challenges faced by IMGs. I felt more comfortable with [Trinity] than anyone else."

It was the early days of the school, so when Dr. Ezekiel first got to the island a week before class, hungry and tired with his family, he admittedly felt a bit lost. That initial culture shock of traveling so far and being somewhere so different helped the students come together, it "was part of it. It's why we were such a close knit group."
Residency, Autonomy, and the Clinical Benefit of Moonlighting
After graduating, he had a confidence inspiring residency interview in Pennsylvania. Dr. Ezekiel's personality and dedication caught their eye immediately. "The program director really liked me. It was flattering. He went as far as saying, 'We really like you, if this wasn't about the match, we'd just hire you.'"

This is a story we hear frequently from Trinity grads, quite frankly, one we're rarely surprised by. A major part of our hollistic admissions process comes from recognizing an applicant's potential even when they've gone overlooked by other schools, that it tends to serve them when they've moved on to residency and beyond.
Dr. Ezekiel ultimately did match into that Harrisburg role, noting, "The clinical experience was outstanding. We had the right amount of autonomy and a spectacular group of ICU physicians that gave us excellent training from day one. It sounds odd to point this out, but there was also an opportunity to moonlight, which is not always the case. This, I think, especially for internal medicine, goes a long way in terms of your training. You get that extra experience and responsibility, you get to feel the fire beneath your feet more. You know you have supervision because you sign out to an attending, but you also have a greater opportunity to do more on your own."


The United States Air Force
After his residency, Dr. Ezekiel was considering his next steps, and ultimately opted to serve his country in the United States Air Force. This decision was not made lightly, and ultimately came down to two key factors: First, once again, the influence of family, "My uncle was a reservist, a lt. colonel, so it was always in the back of my mind. I think deep down, most people want to help, most people want to serve their country. Being a physician, you're at an additional advantage, you can do more."

Dr. Ezekiel is now at a military medical center, serving as both a staff physician and having joined the medical faculty,supervising residents himself. He's also in the midst of transitioning to a new responsibility: heading up the Morbidity & Mortality conferences for the residents. While this is already a full plate, you may have noticed Dr. Ezekiel doesn't hold still very well: he's in the process of deciding his next move for a fellowship, deciding between two competitive opportunities: cardiology and pulmonary critical care.
Parting Advice
His parting advice for incoming Trinity students combined the benefits and challenges faced by international medical graduates: "Be honest with yourself. It is difficult, and you have to be in the right mindset to accomplish it because it's so competitive." This is key and something we always like to communicate to medical students: getting in has felt like a goal for so long, and it is a remarkable achievement, but it's only the beginning of a long process that takes dedication and hard work.
Dr. Ezekiel adds, "When you're done and you're there in your residency, you realize you did what you had to do, you went a harder path and you proved something greater. You accomplished something others haven't."
We couldn't agree with Dr. Ezekiel more. Going so far from home to pursue a dream is a challenge in and of itself, but, as you can see, one that still rewards hard work. We hope he and all of our grads walk with the confidence of knowing they followed their dreams and are now out there making a difference as physicians..