As 2016 wrapped up, Trinity chapters for the Society of Medicine and Surgery (SMS) and the American Medical Students Association (AMSA), teamed up to bring joy to children in St. Vincent and the Grenadines. Presentations of funds and gifts were made at the school on Monday, 12th December, by representatives of the organizations, in the presence of Dean Adkinson and Dr. Frances Jack.
The Society of Medicine and Surgery, represented by Caleb Ackermann, made a monetary donation to the members of the Kourageous Kidz Foundation, an organization that prioritizes the needs of orphaned and special needs children in St. Vincent and the Grenadines. The group of volunteers is guided by a commitment to inspire, empower, nurture and protect the vulnerable children in the Caribbean country. Caleb explained that funds for the donation were raised from the organization of a dodge ball tournament at the Trinity campus. He recognized the value to medical students when they give back to their community as the practice of medicine involves engaging with the community. "It is a really valuable thing for medical students; the practice of medicine is about engaging in the community," he explained, "Many students want to engage with the community but do not have a structured way to do so. I think that Trinity and SMS gives us a way. It was a good way for people to get involved where they otherwise might not have."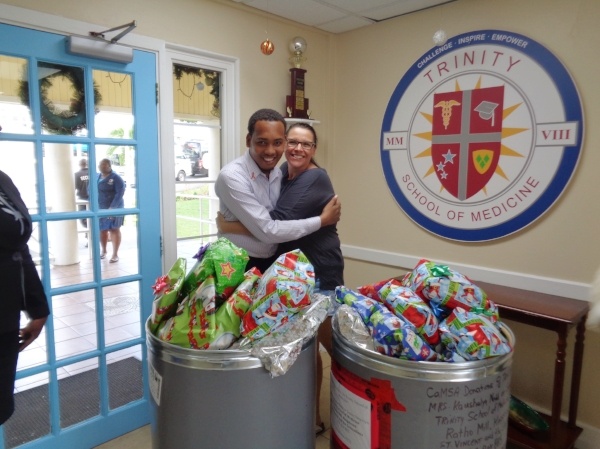 Kourageous Kidz's executive volunteer Kimalla Cambridge lauded Trinity and the Society for Medicine and Surgery for its donation. "We are elated! This is where our funds come from – donations, thrift sales, etc.," she continued, "Thank you for contributing to this worthy cause, these donations go far!" She explained that the money goes not just to the children but any ancillary families in need.
Similar gifts were offered by the Canadian Medical Students Association (CaMSA), represented by their president, Sonia Staystazin, President Staystazin handed over several barrels (ed note: shipping to St. Vincent from US and Canada is often done in cargo barrels for the sake of cost) of gifts to two social workers from the Milton Cato Memorial Hospital, Karen Johnson and Kevan Glasgow. "We tried to, at least, triple the amount of children we are helping this year," President Staystazin added, "We wrapped over ninety gifts this year."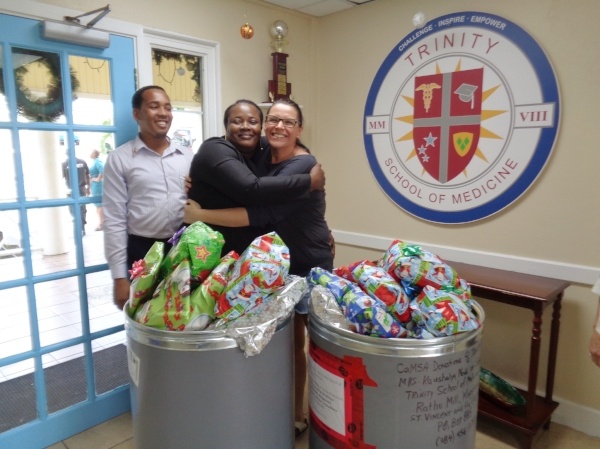 Social worker Karen Johnson was similarly glad, "Trinity has come through again, I am happy that they could share and give back." She said that fifty children at the hospital were earmarked to receive gifts but there were others who had formerly passed through and are no longer patients, that would be included in the program, as well as patients' siblings.
Dean Adkinson was on scene and offered the following, "This is the time of year for giving, the season to think outside of ourselves and think of others." She continued, commenting that her and the faculty have noticed a shift in the priorities of students in general, especially compared to the 1980s and 90s, noting: "They [students] are much more considerate of how they help the environment and the community," she added, "they're always thinking of these kinds of projects. While it is not unusual that organizations within any school have fundraisers, there has been a shift toward being more dutiful and concerned about communities." Trinity School of Medicine is quite happy that its students have fun through outreach and community building.
Dean Adkison wrapped up the day by underscoring the importance of students' involvement in these kinds of activities. "It's exactly what we want a physician to be. A physician has to be able to talk to their patients, to identify at some level with their patients. They have to understand what the community needs, who the leaders are and how the community works. They also have to know how they, as a very important person in the community interacts within that framework,"
Trinity School of Medicine continues to encourage its students into available avenues for excellent community interaction and is proud of their ongoing outreach.