The World Pediatric Project completed it's ninth mission in St. Vincent and the Grenadines for 2015, this time bringing a team of urologists. The visiting physicians were lead pediatric urologist Dr. Joseph Ortenburg; pediatric urologist Dr. Martin David Bomalaski; surgeon Dr. Michelle Vincent; urology resident Dr. Gregory Mitchell; pediatric anesthesiologist Dr. Daniel Corsino; and surgical technologist Clyde Williams. Accompanying the team was Chez Cinders, WPP Representative responsible for coordinating missions to St. Vincent and the Grenadines.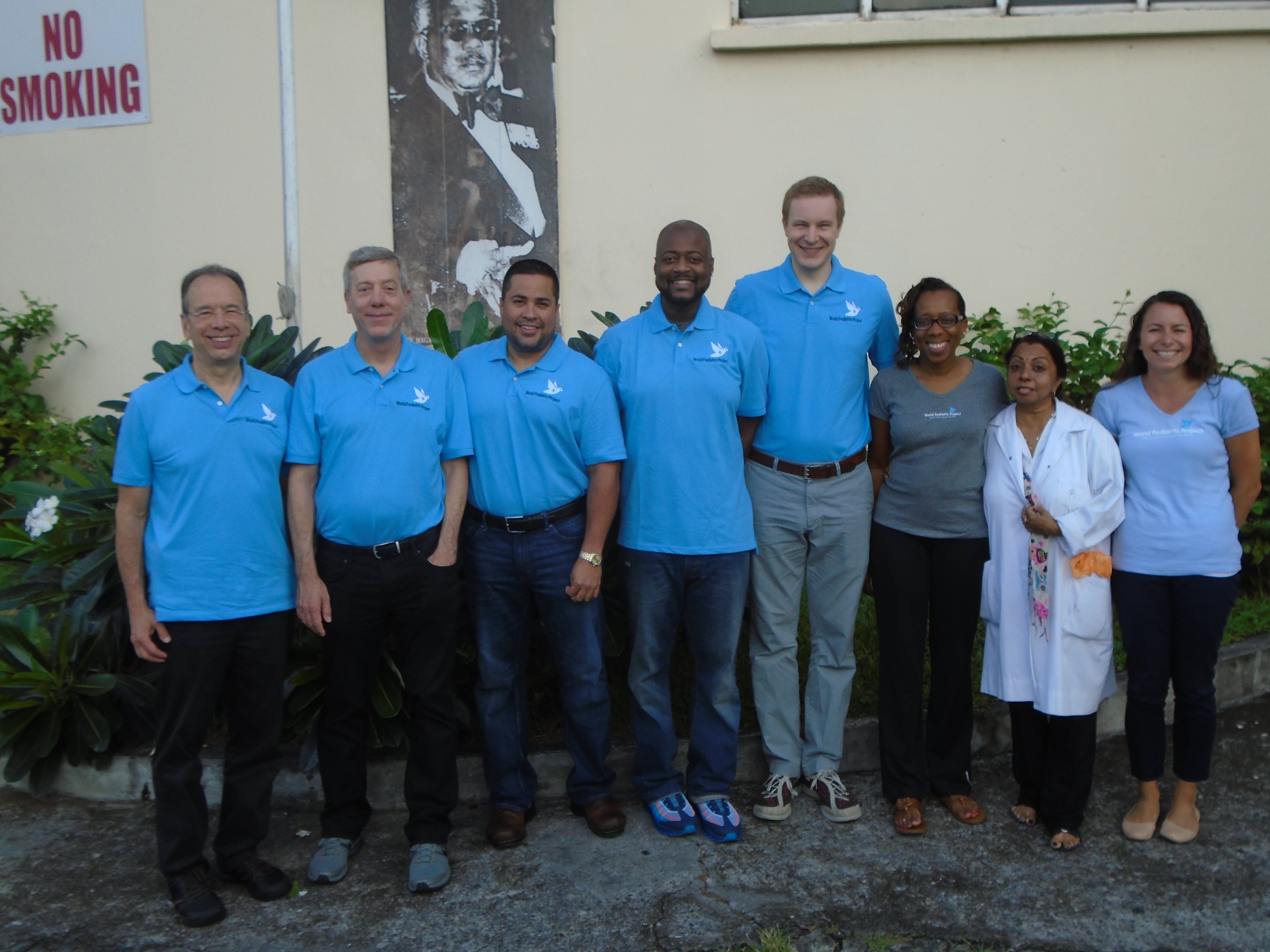 Dr. Ortenberg explained that his team was primarily concerned with diseases that affect the kidneys, the bladder, and the male genitals. The trip started with a consultation day. Children from throughout the Eastern Caribbean converged on Milton Cato Memorial Hospital to be seen by the specialists. A total of thirty-six urology cases were seen in children all under the age of twenty-one. According to Mrs. Jacqueline Browne-King, WPP representative for the Eastern Caribbean, of that total, twenty-five of these were from St. Vincent and the Grenadines with eleven coming from Barbados, three from St. Lucia, three from St. Kitts, one from Antigua, one from Guyana, and one from Nevis. By the conclusion of the consultations, twelve surgical interventions were planned for the next week.
Students from Trinity School of Medicine worked in rotations, observing the details of cases under review and consultation procedure. They posed questions upon observation, to which Dr. Ortenburg gave answers throughout patient examination and via guided consultation of patient records.
The fifth term students all said that participating in the mission was a great opportunity. Fifth term student Alex Manuel noted, "I observed cases that I don't think I would see that often in North America. I would really recommend that students become involved in this project. It's great experience."
Janel Bakou expressed her sentiments about what she experienced, noting the value of the practical observation prior to formal clinicals: "It's nice to put an actual case with what I've read. It definitely is a real good thing to become involved in, not only for the people that need it, but you learn so much from it."
Rana Chaar agreed wholeheartedly. "We are gaining clinical experience and we're applying our knowledge to practical work." Chaar continued, "Urology is not my area of preference, so it was a great opportunity to see cases we have studied in the classroom. It's all good for the experience. It's good to get to see patients and to work with such experienced physicians."
The World Pediatric Project conducts ten medical missions in St. Vincent and the Grenadines every year. The list includes: general surgery and neo-natal clinics in January; ophthalmology and plastic surgery in February; physical therapy between February and March; cardiology in March; orthopedics in April; neurosurgery in June; and urology in September or October. The final mission is a second orthopedic trip specifically to address scoliosis and spinal fusion.
The students and faculty alike enjoy the breadth of knowledge, experience, and specialties that visit the island. Students frequently remark on the benefit of exposure to areas they hadn't previously considered for elective clinicals or residency, broadening their experience and sense of opportunity post-graduation.
WPP is considering expanding its visits to Saint Vincent, with Trinity just as interested in expanding student involvement and, as a result, continuing to build on its philosophy of early clinical experience for its future physicians.