Trinity's Canadian Medical Students Association (CaMSA) chapter paid a visit to the Milton Cato Memorial Hospital this December with armfuls of gifts for resident children under the care of the hospital's social welfare department.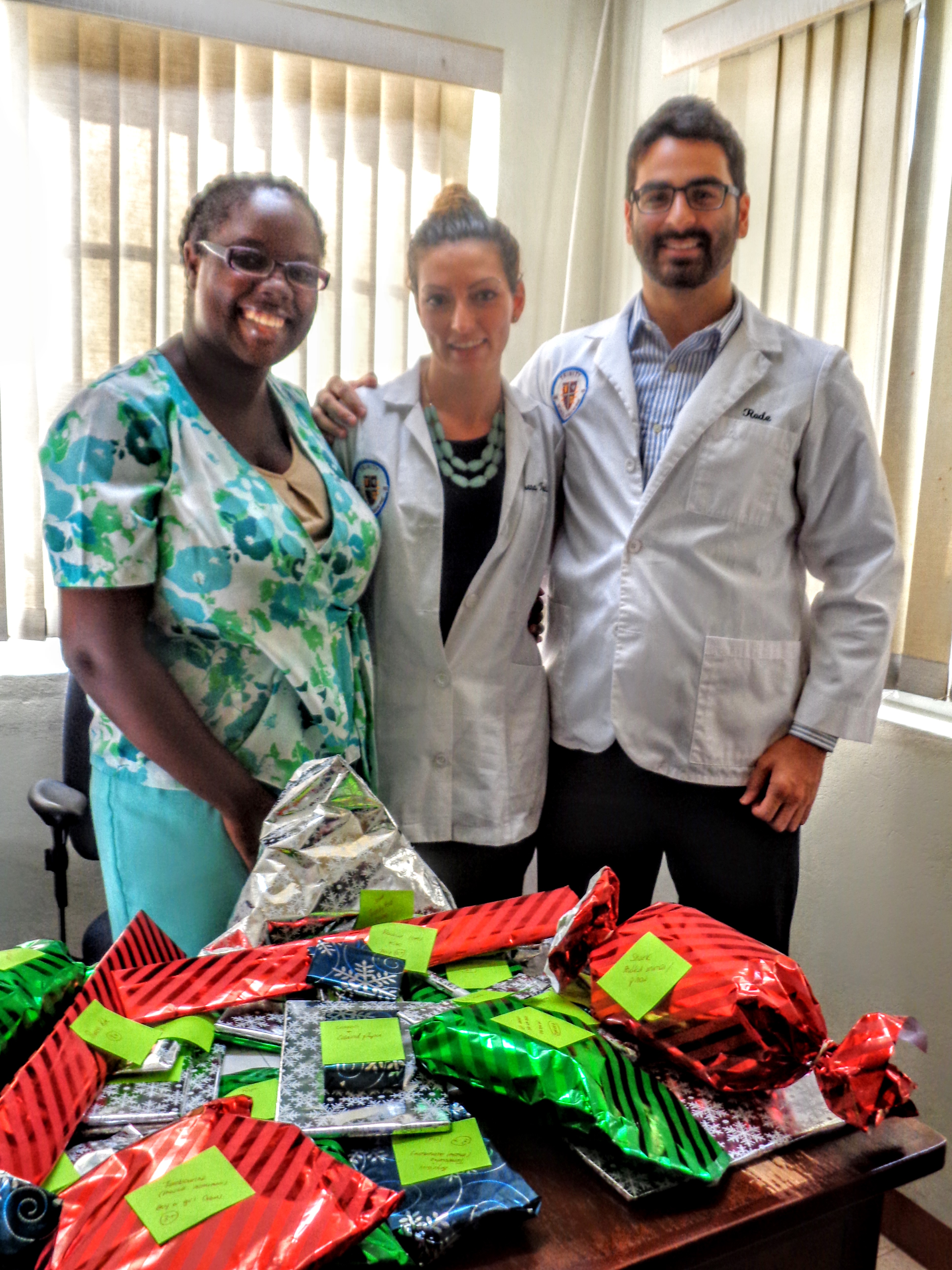 CaMSA President and 4th term student Athena Tudino (pictured center, left) explained that, while the immediate goal was to bring Christmas cheer, they consider this trip the first part of a new, ongoing mission. Tudino expressed her organization's desire to become more involved with the social welfare department. "We hope to make this a years-long project." The group announced they were intending to collect more items over the break and have them shipped down, going as far as asking for a specific list.
Third term student Daniel Rodé (also pictured left), referenced plans for more assistance from the entire student body at Trinity, "If we get all the students involved, I'm sure everyone – not just the Canadians– will be happy give to share in similar events."
Odelia Thomas (pictured far left), a social worker at the health care facility, expressed her gratitude, "I'm very thankful for this. When Dr. Jack called to let me know of your coming, I was so excited. I was especially thinking of the children who would be on the ward on Christmas day." Ms. Thomas continued, explaining that she had initially made a very long list for the CaMSA donors as, among the children that she sees on a daily basis are also children who are not hospitalized but who come from homes requiring the service. This notion dovetailed nicely with future CaMSA plans to continue initiatives for the children in the program.
The meeting was mostly business; the CaMSA members were able to better develop ideas for a project of continued donations to the department. Tudino explained that "for families in need, Christmas is a good starting point, but ideally lending a hand with various drives is something we'd like to continue throughout the year." She said that they would like to put together packages especially for high-risk families according to their specific needs.
Together with Ms. Thomas, they were able to construct a list of items that will be essential to both the hospitalized patients and program-affiliated families in their homes.
This is just another example of how driven Trinity students are; they're destined to help others, becoming doctors only enhances that ability.
Well done, CaMSA!