On Saturday, September 5th, seventy-five MD students and twelve pre-medical students participated in the Trinity School of Medicine Class of 2019 White Coat Ceremony.
Dr. Douglas Skelton, chancellor and dean, presided over the ceremony of matriculants from Emory, Virginia Tech, Cal. State University, Xavier, U. Conn. U. Guelph, U. Western Ontario, and many other schools across the US and Canada, all selected for their passion for medicine and desire for an intimate, practical learning environment.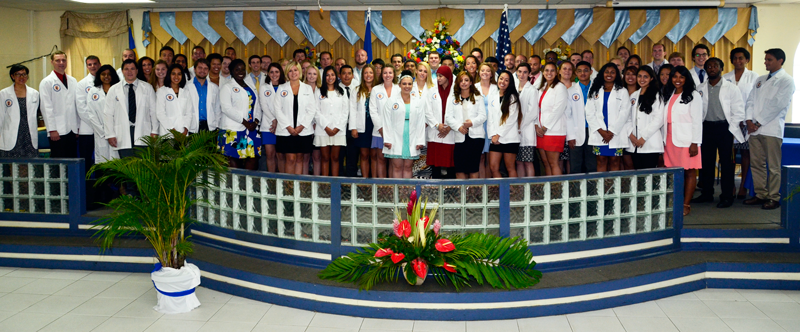 The audience included the Minister of Health, Wellness and the Environment, Hon. Clayton Burgin; Trinity faculty; the Trinity Welcoming Committee; and the staff of the deanery as well as friends and family of the new students.

His Excellency Dr. Frederick Ballantyne, Governor General of St. Vincent, welcomed everyone to the ceremony by speaking on the nobility of the the medical profession, quoting Dr. Tinsley Harrison, "No greater opportunity or obligation can fall the lot of a human being than to be a physician."


He spoke on the blend of the technical skill, scientific knowledge, and human understanding that would be required of each of them; the unique service each would provide for their patients; and of the "enduring edifice of character" that will be built within each student out of their courage, humility, and wisdom.
Upon concluding, the Governor General reminded all that "Trinity School of Medicine School is going to offer you an excellent academic experience which will be bolstered by an excellent cultural and social experience from the Vincentian people."
Pictured left, Dr. Ballantyne, Governor General of Saint Vincent, addresses the students.
Shortly after, Trinity president Steven Wilson rose to address the gathering, introducing a presentation by students of the 2015 graduating class, summing up their experiences from the point of their own white coat ceremony, to starting their residencies.
The graduates turned doctors touched on everything from cultivating study habits to Trinity faculty/student relationships, one even pointing out that, "Anything you needed, they [the faculty] were just an email or phone call away. The fact that it was a small school meant that we knew everybody and everybody knew us; and I think that was really a valuable thing to have. Everybody feels personally invested in how well you do, so everyone's there to help you 100%."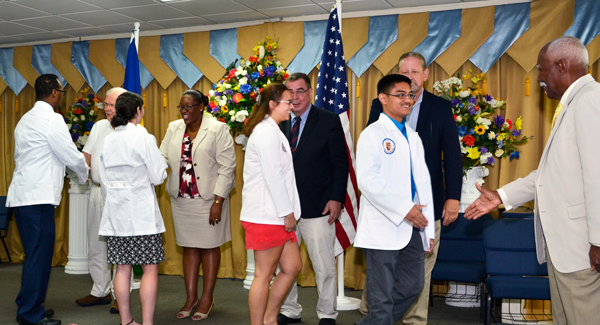 Associate dean of admissions Dr. Paula Wilson took time to explain the origins of the first white coat ceremony. The tradition is not actually that old, having started at Columbia University College of Physicians and Surgeons twenty-one years ago. Columbia faculty member Dr. Arnold Gold conceived of a ceremony to capture medical students' obligation to patients and the human side of medicine.
Pictured right: medical students in the procession.
Dr. Wilson solemnly noted that "when the coat is placed on each student's shoulder, it is a vote of confidence from Trinity faculty, placing their faith and confidence in each student's desire to be a 'human' physician from day one." That humanity was particularly noted in a particular pair of students: siblings John and Catherine Cravey (from Middle Georgia College and Emory University respectively) took part in the ceremony together, making literal the idea of "the Trinity family."
The seventy-five students stood to be robed by faculty and then congratulated by the Governor General. Each was now ready to take on the journey towards becoming professional, altruistic physicians.

Dean Skelton brought the ceremony to a close with words of good wishes and invited students and their relatives to a reception on nearby leisure destination Young Island.
Above (right) Dr. Skelton meeting with guests (left) Trinity students, staff, friends, and family celebrate after the ceremony.