Trinity School of Medicine is proud to announce that it has received CAAM-HP accreditation.

Accreditation
Accreditation is bestowed by a governing body if an institution is operating at a set of predetermined quality standards as well as a benchmark to help schools continue to improve their quality of education.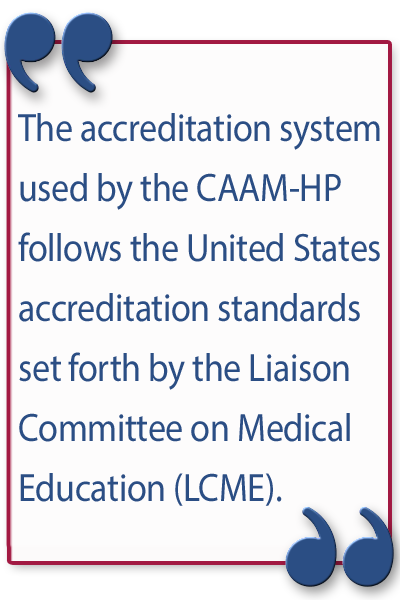 CAAM-HP Accreditation Explained
The Caribbean Accreditation Authority for Education in Medicine and other Health Professions (CAAM-HP) is the legally constituted body established to accredit medical programs in the Caribbean. The accreditation system used by the CAAM-HP is based on the United States accreditation program for medical schools established by the Liaison Committee on Medical Education (LCME).
CAAM-HP adopted LCME standards for two reasons. First, the LCME standards have a strong, respected history, and it's always a good idea to follow in the footsteps of exemplary organizations. Second, many Caribbean students seek to practice in the United States. By building the CAAM standards around LCME doctrine, state licensing boards can confidently accept students from accredited Caribbean medical schools.
The CAAM-HP Accreditation Process
Accreditation is a multi-year process that involves administration, faculty, even student participation.
The process ranges from internal task forces to exhaustive documentation, culminating in an inspection. This visit involves observation of classrooms, facility inspections, interviews, and more. The interviews are not limited to the campus. The staff and physicians at Milton Cato Memorial Teaching Hospital meet with representatives and give candid, confidential opinions on the progress and performance of the students. This same process is repeated in the United States at Trinity's clinical partners.
Trinity, St. Vincent and the Grenadines, and CAAM-HP
Trinity School of Medicine is an institution thoroughly invested in its own quality. While the school has already been fully accredited by St. Vincent and the Grenadines and produced residents and licensed physicians operating the US and Canada in an array of specialties, adding another external benchmark is a valuable tool. Under CAAM-HP, Trinity will expand its research offerings, deepen its ties to the greater academic community of the Caribbean, and most importantly for incoming students, increase access to residency and licensure opportunities.
Going Forward
The CAAM-HP board had great feedback, outlining our existing strengths and suggesting areas of growth for Trinity.
Notable strengths in their own words included:
Basic science and ICCM courses prepare students well for clerkships (Good USMLE results, preceptor and student feedback)
Strong strategic leadership with effective heads of department
Early clinical experience
Ethos of supporting students – they felt cared for, "not just a number" and process starts before matriculation
Future advances recommended by the CAAM-HP Committee includes an expansion of library facilities, more centralized clerkships to allow students to continue to work closely with their academic colleagues, and the launching of an alumni relations program. The last of which will not only support continued communications between alums themselves and the school, it will implement career tracking to provide valuable data to future candidates.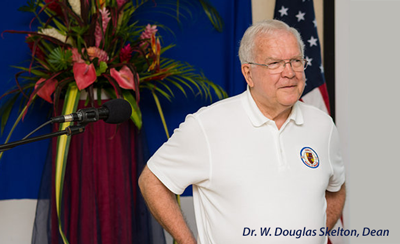 It's hard to put it better than chancellor and dean, W. Douglas Skelton, MD, "This next step represents an effort on our part to meet the highest recognized international standards for medical institutions in the world. We couldn't be more proud of our faculty, staff, and students, and we're very excited for what it means for the future development of Trinity School of Medicine."